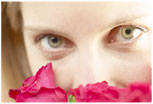 Allergy shots, a desensitization process, can be helpful for some people in reducing symptoms and the need for other medications. There are also various topical and oral medications readily available at local pharmacies and drugstores. For particularly serious cases, a variety of prescription medications are also available.
Most medications fall into the antihistamine category, either topical or oral. Both work to block the release of histamine, which causes many of the symptoms. Topical antihistamines, in the form of eye drops, may prove the most effective way to get relief from Seasonal Allergic Conjunctivitis. Unlike oral medications, eye drops allow the medication to get directly to the affected eyes. Many contain both an antihistamine and a decongestant. Applied when necessary, these drops can alleviate within minutes most of the annoying symptoms such as itching, redness, tearing and swelling.
New and highly potent prescription topical antihistamines are also available from your doctor that work on contact and provide hours of relief with virtually no side-effects.