Meet NeoVision's Medical Director, Eye Physician and Surgeon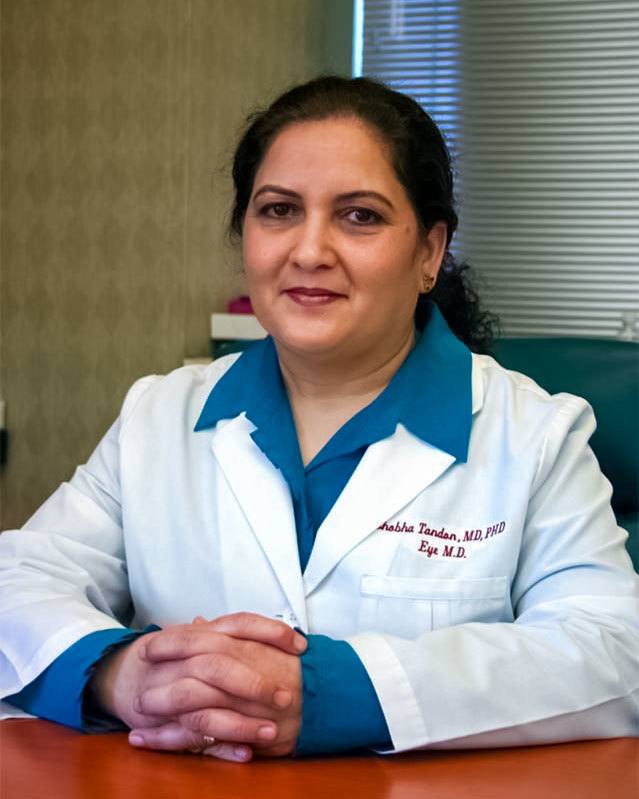 For over 28 years, Dr. Shobha Tandon, MD, PhD has been helping patients reclaim their vision. She is a highly-trained and well-respected board-certified ophthalmologist and LASIK surgeon who has received numerous awards recognizing her expertise. She has performed thousands of successful procedures ranging from LASIK laser eye surgery to cataract removal surgery to treating glaucoma, retinal detachment and amblyopia. NeoVision Eye Center in Union City is her practice and its mission is to provide the best possible eye care combining safety, technology and expertise.
Beyond her active medical practice, Dr. Shobha Tandon regularly volunteers her time with various non-profit organizations and uses her surgical and medical expertise to serve the needs of the underprivileged. She also has a special interest in improving eye care services in developing nations.
Dr. Shobha Tandon's Credentials
Dr. Shobha Tandon received double doctorate degrees in Medicine (MD) and Biochemistry (PhD) from the University of Texas Health Science Center at San Antonio. She later completed her 4-year residency training at Stanford University as the Chief Resident in Ophthalmology.
During her professional career, Dr. Shobha Tandon has continued to be an active member of the medical community. She is a current member of numerous organizations including the American Academy of Ophthalmology (AAO), the International Society of Refractive Surgeons (ISRS), the American Medical Association (AMA), the American Society of Cataract and Refractive Surgeons (ASCRS), and American Association of Physicians of Indian Origin (AAPIO).
Dr. Shobha Tandon's Achievements
During her studies at the University of Texas, Dr. Shobha Tandon received numerous awards acknowledging her skill and dedication including the Wallace McNutt Award for the highest achievement in Gross Anatomy, the Mead Johnson Award for Excellence in Research and the National Student Research Forum Award. She has also received multiple professional awards including Consumer Research Council's 2001 Ophthalmologist of The Year, the 2001-02 Honors by America's Registry of Outstanding Professionals, and Consumer Research Council's 2004-05 America's Top Ophthalmologist. Dr. Shobha Tandon, MD, PhD has also presented many papers and posters at institutions across California including the University of California San Francisco, VA Hospital Palo Alto, and Stanford University Medical Center as well as the Association for Research in Vision and Ophthalmology (ARVO) in Ft. Lauderdale, Florida.
Review Dr. Shobha Tandon's curriculum vitae