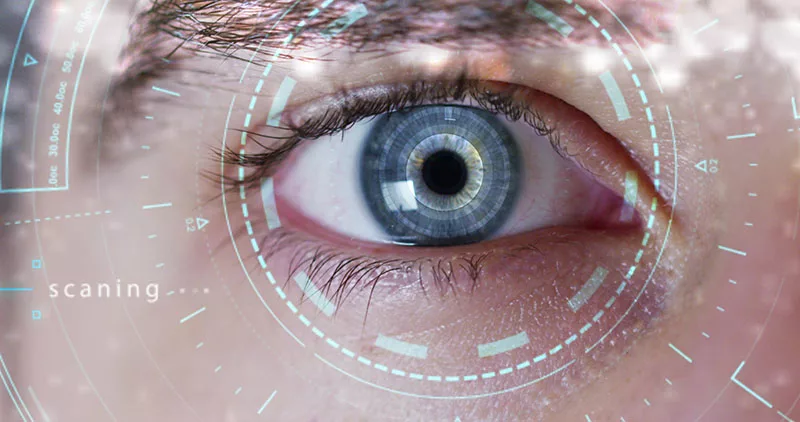 WaveFront: Advanced Laser Technology for Custom LASIK Eye Surgery
Since it was first approved by the FDA in 1999, over 10 million people in the United States have undergone LASIK Eye Surgery. With a success rate of over 95%, it's no wonder that hundreds of thousands of patients turn to LASIK every single year for their vision correction needs. While many patients are perfect candidates, conventional LASIK has a number of alternatives for those that are not. To ensure we are able to help as many patients as we can through their vision correction journey, we proudly offer custom LASIK with Wavefront technology.
What is Custom Wavefront LASIK?
With standard LASIK procedures, your cornea is reshaped based on your level of refractive error alone — meaning, everyone with the same level of prescription receives the same LASIK treatment. WaveFront technology allows you to experience personalized precision, comfort, and safety throughout your entire LASIK procedure.
Custom Wavefront LASIK surgery uses advanced refractive technology to create a surgical plan that is personalized to your needs. This technology measures the unique shape of each of your corneas, while also analyzing any other corneal irregularities and refractive errors. With this information, our eye surgeon can customize a LASIK laser treatment procedure specifically for you.
Custom WaveFront LASIK vs. Traditional LASIK
When compared to traditional LASIK, your chances of achieving 20/20 vision are higher with custom WaveFront analysis. WaveFront technology also allows us to treat patients who were previously unqualified for standard LASIK, such as those with larger pupils.
The advanced WaveFront diagnostic makes treatment for other corneal issues and aberrations much more accessible, as well.
Conventional LASIK surgery is limited to treating low-order optical distortions only. With Custom WaveFront LASIK technology, our surgeons are able to address both low and higher-order optical distortions.
Low-Order Aberrations (LOAs) include:
Nearsightedness (myopia)
Farsightedness (hyperopia
Astigmatism
High-Order Aberrations (HOAs) include:
Corneal irregularities (other than refractive errors)
Decreased night vision
Double vision
Glares, halos, starbursts
How does WaveFront Analysis Work?
At the forefront of advances in refractive vision correction technology is the WaveFront laser diagnostic and mapping system. This technique provides the highest quality measurements and treatment plans for all types of optical distortions that were previously unavailable with older methods.
WaveScan Eye Analyzer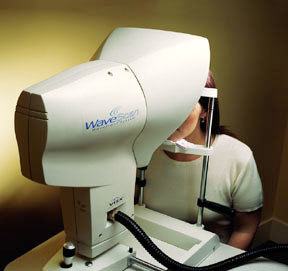 The first step in customizing your LASIK treatment is to analyze each eye with our WaveScan system. This is an advanced diagnostic device that will detect all irregularities and distortions of your corneas.
During this process, the device sends a harmless ray of light into your eye. This light will bounce around your retina and back out through your cornea. When the WaveScan receives the light back, it arranges the data into a unique map that details all your lower- and higher-order distortions.
WaveFront 3D Eye Mapping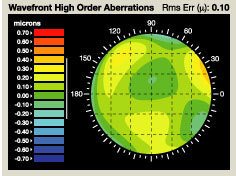 The information gathered by our Wavefront technology goes beyond just the unique topographical shape of your eye. The device also analyzes how your entire optical structure processes light.
With these diagnostic measurements, your surgeon can construct a three-dimensional map of your eye. If you struggle with refractive errors or other vision issues, your map will have minor peaks and depression indicating all of the LOAs and HOAs. Someone with no vision disturbances or refractive errors will show a normal, uninterrupted corneal curvature.
This 3D WaveFront map will then work as the blueprint for your custom LASIK laser procedure.
Learn More About Custom LASIK with Wavefront Technology at NeoVision Eye Center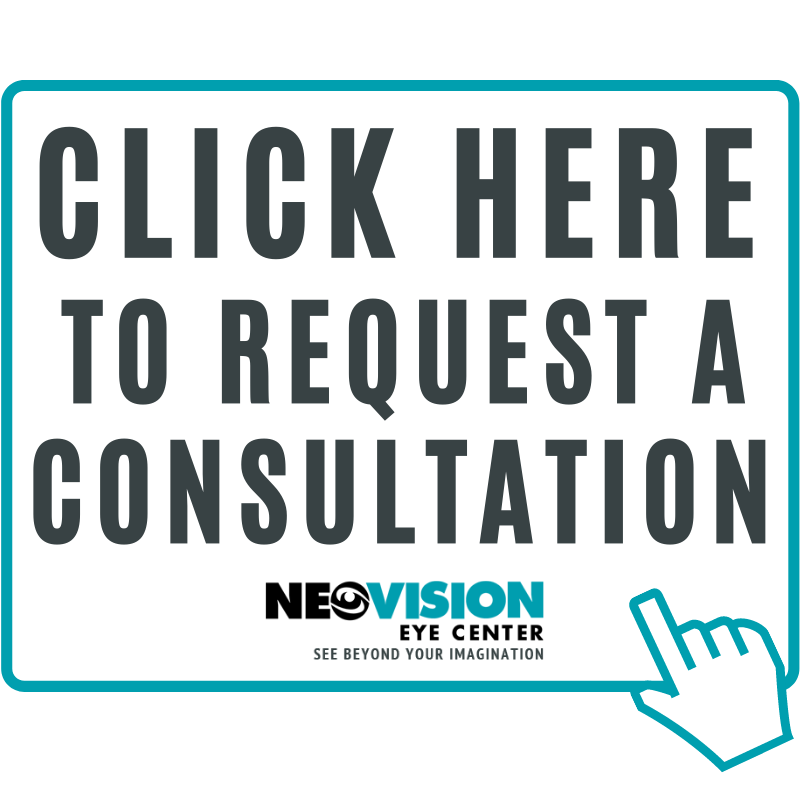 Personalized treatment for refractive errors is now more accessible than ever with advanced WaterFront laser technology. With expert care, your eye doctor at NeoVision Eye Center will create a surgical plan specific to your individual needs.
Our team at NeoVision Eye Center is dedicated to providing all our patients with the safest, most advanced LASIK technology and equipment possible. Take the first step towards optimal eye health and get customized care by contacting us today. Reach our Union City eye center by phone at (510) 431-551, or contact us online to schedule a free consultation.