The team at NeoVision use the latest LASIK technology and equipment in order to provide our patients with the safest, most accurate LASIK treatment possible. Why is this important? We'll explain why using the Intralase Femtosecond Laser, VISX Star S4 Excimer Laser, and Wavefront Technology is vital to our success.

Intralase Femtosecond Laser:
The Femtosecond Laser is a key feature of our All-Laser approach to LASIK surgery. A key advantage with this technology is granting your laser eye surgeon the ability to perform LASIK without a bladed surgical instrument. Instead of a blade, your surgeon will use two lasers to perform the procedure: the first being the femtosecond laser in order to create the small corneal flap and then the excimer laser in order to reshape the surface of your cornea to correct your vision.
Previously, a bladed instrument (also known as a microkeratome) was used in lieu of the femtosecond laser. This new all-laser approach revolutionized LASIK in 2001 when it became FDA approved. By using a laser instead of a microkeratome, you are able to minimize your risk for microkeratome-related complications from the procedure.
The IntraLase Laser Technology is a safer, more precise approach in creating the corneal flap in patients whose corneas are thin or have unusual curvatures. This technology also allows your surgeon to tailor the flap created during LASIK to the unique shape of your eye. This laser-produced precision and individualized treatment method allow for the best LASIK outcomes possible.
Intralase Animation:
---
VISX Star S4 Excimer Laser: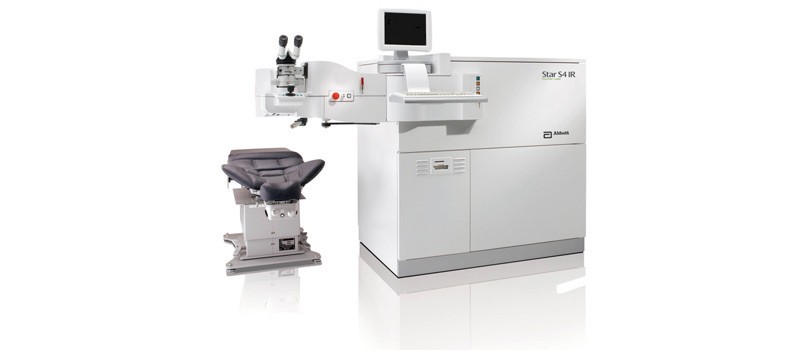 VISX Star S4 Smooth Scan Laser is one of the most advanced laser systems available in laser vision correction today. It is FDA-approved for both Wavefront LASIK and standard PRK treatment.
The VISX Star S4 Smooth Scan Laser is an excimer laser. This laser is used during the second step in a LASIK procedure and works to reshape the cornea and correct refractive errors.
The reason this particular excimer laser is so advanced is its ability to remove microscopic amounts of corneal tissue with an extremely high degree of accuracy. This accuracy allows for optimal refractive correction without any damage to the surrounding corneal tissue.
This accuracy is partially due to the Active Trak™ infared eye tracking system that follows your eye in all three dimensions. This eye tracking system monitors your eye movements and keeps the excimer laser beam on the precise target during surgery. Recent studies have shown that using an excimer laser with an eye tracking system can help to decrease LASIK-related complications and provide better refractive outcomes when compared to excimer lasers without this technology.
Our excimer laser system also provides The Blend Zone™ which allows your surgeon to target a larger treatment area. This is advantageous for patients with larger pupils. It has been shown that larger pupils can potentially affect refractive outcomes and the possibility of post-surgery issues like glare and halos at night. With The Blend Zone, your surgeon is able to ablate the surface that is equal to your pupil size in dim light, reducing the risk of post-surgery vision problems.
VISX Star S4 Excimer Laser Animation:
---
Wavefront Technology: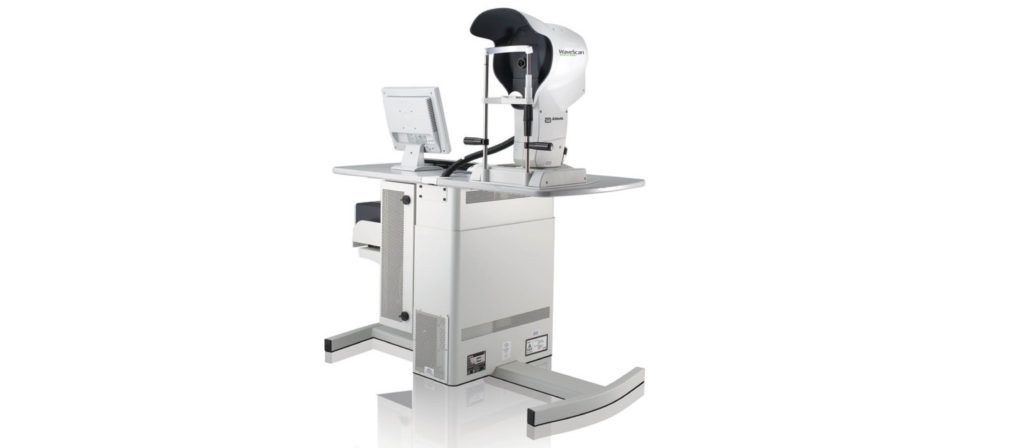 Wavefront technology is the key component to a Wavefront Custom LASIK procedure. Using this technology, your surgeon will create a custom map of your cornea during your pre-operative eye exam. This map is a detailed and completely unique map of your vision. Your surgeon then uses this map to perform a LASIK procedure completely customized to your unique needs.
Every eye and cornea are different, many think of it as a fingerprint in that no two are the same. Wavefront technology allows your surgeon the ability to measure, gather, and implement the information needed to create a detailed map of the unique characteristics of your eye.
The information gathered by this Wavefront technology goes beyond just the topographical shape of your eye- it is also collecting information on how your entire eye processes light. The WaveScan will measure how light bounces off your retina and returns back through the cornea. This allows your surgeon to truly measure vision errors and provide optimal refractive outcomes.
How Wavefront Technology Works:
---
Why is It Important that Advanced Technology and Equipment is Used for LASIK?
The combination of these technologies allow us to provide our patients with the best diagnosis and treatment planning available, safest treatment possible, and best refractive outcomes. Using these advanced technologies can not only ensure the best results but also reduce the risk of LASIK-related complications.
In addition to having the latest equipment and technology, your surgeon's level of experience and a thorough pre-LASIK evaluation by your LASIK surgeon are critical factors to having the best LASIK outcomes possible. Board certified ophthalmologist and LASIK surgeon Dr. Shobha Tandon leads NeoVision Eye Centers in both Mountain View and Union City. Dr. Tandon has over 20 years of experience performing LASIK in the Bay area. She and her team are dedicated to patient safety and satisfaction above all else.
Would You Like to Learn More About Our Advanced LASIK Technology?
Dr. Shobha Tandon and her staff are here to answer any questions or concerns you may have about taking the next step towards better vision. Fill out the form below quickly get in touch with any questions or concerns you may have with getting LASIK at Neovision.
"*" indicates required fields