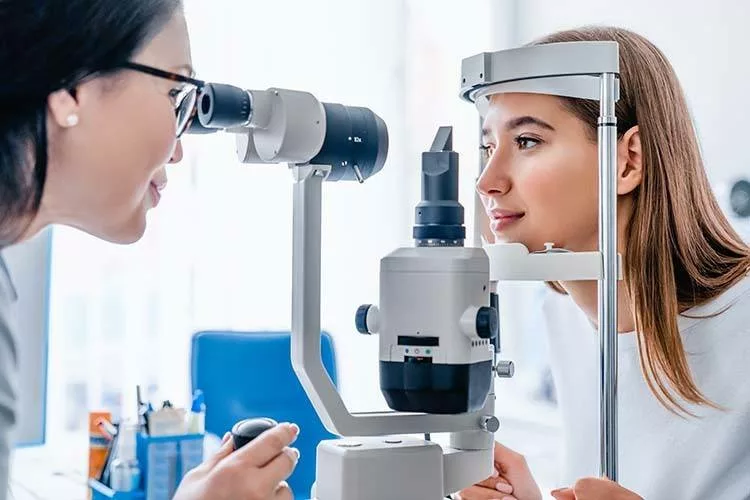 Ophthalmologist or Optometrist: How to Choose the Best Eye Care Provider for Your Needs
When it comes to your eye and vision health, knowing which kind of care provider you need can save you both time and money. Both an ophthalmologist and optometrist play an important role in providing eye care, but their levels of training and expertise are quite different.
Below we take a closer look at the difference between an ophthalmologist and an optometrist and the specialized care you can expect to receive from different types of eye doctors.
Eye Care from an Ophthalmologist
Ophthalmologists are medical doctors who specialize in the diagnosis and treatment of all eye conditions, diseases, and vision problems. From common vision issues to serious diseases such as cataracts or glaucoma, an ophthalmologist can diagnose and treat it all. Treatments can include everything from prescribing corrective eyewear and administering medications, to performing eye surgery.
Ophthalmologists provide the following eye care services:
Complete eye health services including eye and vision exams
Refractive eye correction surgery, including laser eye surgery
Diagnosis and surgical treatment of eye diseases
Rehabilitation therapy and surgery aftercare services
Emergency eye care services including trauma
And much more!
At NeoVision Eye Center, Dr. Tandon, MD, PhD, is a highly trained and well-respected board-certified Ophthalmologist. She has over 20 years of experience serving the Bay Area as a LASIK surgeon and is an expert in eye health. Dr. Tandon's passion for ocular medicine includes staying up-to-date on the most advanced care techniques and technology.
Do I Need to See an Ophthalmologist?
If you have a pre-existing eye condition or family history of eye disease, you should see an ophthalmologist. If you are over the age of 60, you should schedule an appointment with an ophthalmologist for routine screenings for cataract and other age-related eye diseases.
Common Signs of Eye Diseases Include:
A sudden decrease in vision or complete loss of vision in one or both of your eyes
Pain or pressure in your eyes
Seeing spots, floaters, or flashes of light
Light streaks, glares, or halos
Seeing shadows or curtain-like shapes in your vision
Any changes in your color vision
These symptoms and many more could indicate a possible eye disease or vision disorder that will require the expert care of an ophthalmologist.
Eye Care from an Optometrist
An optometrist is a primary care provider responsible for all your routine eye health and vision concerns. An optometrist will provide you vision care ranging from sight testing, diagnosis, and management of vision prescriptions.
Optometrists provide the following eye care services:
Routine eye exams
Diagnosis of eye conditions
Prescriptions for eyeglasses, contact lenses, and other corrective eyewear
Your optometrist can also prescribe certain medications and treatments for common eye conditions. But unlike an ophthalmologist, your optometrist does not perform any surgical procedures and cannot treat more serious eye diseases.
Do I Need Optometry Services?
Depending on your age and general health, you will want to visit your optometrist every one to two years for a comprehensive eye exam. A regular eye examination will consist of a series of tests to help your doctor assess the overall health of your eyes. They will also screen you for any vision changes and refill any corrective eyewear prescription.
You should schedule an appointment with an optometrist if you experience any changes in your vision.
Signs and Symptoms to Report to Your Optometrist:
Farsightedness or trouble seeing things far away
Nearsightedness or trouble seeing things up close
Headaches or migraines
Double visions
Trouble seeing at night
If your optometrist believes you may be at risk of a more serious eye condition they will refer you to a trusted ophthalmologist in your area or one associated with their practice.
What Eye Kind of Eye Doctor Should I See?
In conclusion, an ophthalmologist offers the same vision and eye health services as an optometrist – and then some. Ophthalmology services can range from comprehensive exams to in-depth diagnosis and treatment of detrimental eye diseases and conditions. If your ophthalmologist has an optical shop you can even receive their vision benefits to get frames, lenses, prescription sunglasses, or contact lenses.
Additionally, you may not require vision insurance to see your ophthalmologist, as your regular medical insurance may apply. Check with your current provider and insurance to see if you qualify.
We offer a full spectrum of eye care at NeoVision Eye Center including both Ophthalmology and Optometry vision services. We believe it is important to offer full-scope eye care to provide our patients with the best option for their unique needs.
Contact A Dedicated Ophthalmologist or Optometrist at NeoVision Eye Center
It is important to choose an eye care provider that is dedicated to your individual needs and your overall patient experience. At NeoVision Eye Center we believe having access to comprehensive eye care is important and want to invite you to meet our team. Our board-certified ophthalmologists and optometrists have the knowledge, skills, and tools they need to provide you with the exceptional eye care that you deserve.
We take pride in offering our Union City patients the highest quality care and welcome you to call us today at 510-431-5511 or schedule a complimentary consultation with the dedicated Ophthalmologists and Optometrists at NeoVision Eye Center today online.