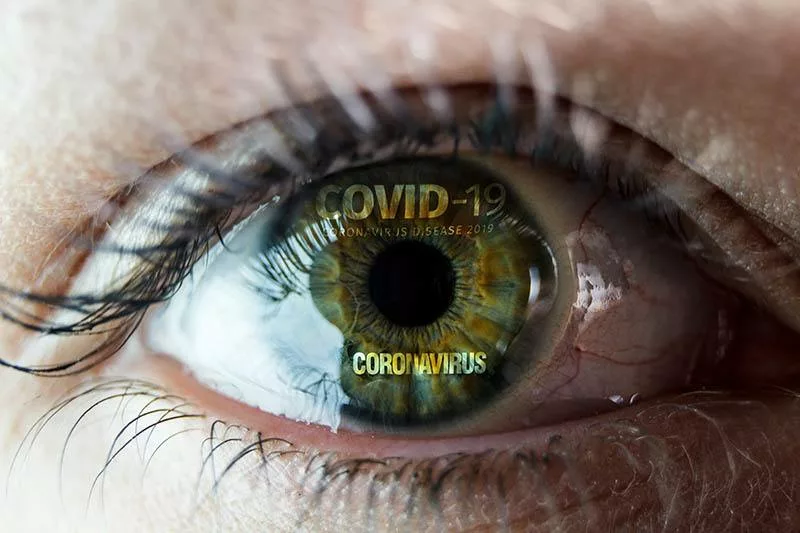 What You Should Know About Proper Eye Care and Your Health During COVID-19
Since the Coronavirus has interrupted most of our everyday lives, creating healthier habits has never been more important. In response, our expert eye care team has created an easy guide to help you properly care for your eyes during the Coronavirus pandemic. Check out our guide to caring for your eyes during COVID-19 and how proper eye care can also support your overall wellbeing!
Eyeglasses are Not Recommended Personal Protective Equipment (PPE)
Early on, the Centers for Disease Control and Prevention (CDC) confirmed the coronavirus could be transmitted through eye fluid. This made proper eye protection essential to limiting the possible transmission of the virus.
Personal protective equipment (PPE) is secured clothing, like gloves, gowns, masks, face shields, other garments specifically designed to protect you from possible infection. While your eyeglasses do seem like a small barrier, they are not approved by the CDC as proper PPE. For your health, you may need to take extra precautions to avoid possible transmission and to keep your glasses sanitized and clean.
Proper Eyeglasses Sanitation
If you rely on corrective eyewear to see, eliminating touching your face all together can seem impossible. But with proper care and sanitization, you can eliminate the spread of harmful germs and viruses, like the Coronavirus.
To keep your glasses clean, create the habit of washing them every time you wash your hands with soap and water. Consider switching to a more disposable type of eyeglasses case that can also be cleaned with soap and water regularly, and can be easily replaced at least once a month.
COVID-19 and Contact Lenses
Lots of our patients have questions and concerns about wearing contact lenses during the pandemic. Some health care experts are advising strict guidelines about direct hand to face contact, and encourage people to switch to eyeglasses for the time being. But in an official statement, the CDC declared there was no evidence to suggest that people who wear contacts have an increased risk of contracting COVID-19.
If you feel comfortable continuing to wear your contact lenses and follow proper hygiene guidelines, you will not be putting yourself at any greater risk.
Proper Care and Sanitation of Contact Lenses During COVID-19
Wash your hands with soap and water before and after touching your face or contact lenses.
Wash your contact lens case with soap and water before and after handling it.
Replace your contact solution in your case every day, and wash it before putting new solution in.
Replace your contact lens case every month.
Don't Overwork Your Eyes While Working from Home
Sometimes caring for your eyes during COVID-19 includes both major and minor adjustments. If you are one of the many people now working from home while sheltering in place, it can be easy to forget to take a screen break. Prolonged periods of time staring at an electronic screen can overwork your eyes and lead to vision problems. 
To ensure you aren't straining your eyes, start practicing the 20-20-20 rule to give them a well-deserved break.
What is The 20-20-20 Rule?
After every 20 minutes spent looking at a screen, take at least a 20-second pause to look at something at least 20 feet away.
Quarantine Diets that Promote Eye Health
Caring for your eyes during COVID-19 goes beyond just screen time tips, and clean hands. You also have to consider your overall bodily health during a stressful time. Suddenly spending most of your time at home these days can make establishing a new normal routine a challenge. Starting with a healthy meal plan can be a big step towards an easy routine that also benefits your health.
Poor eating habits can lead to many unwanted health issues, including some serious eye conditions. Fueling your body with a healthy well-rounded diet, and plenty of water can go a long way to maintaining your overall well being and ocular health. Some research has shown that with proper nutrients you can reduce the risk of developing age-related macular degeneration.
Nutrients To Boost Your Eye Health
Omega-3: These fatty acids are found in chia seeds and salmon, but can be taken as a daily supplement as well.
Vitamin-C: Supplementing vitamin-c can be easy, but you can also find it in delicious fruits like oranges, strawberries, and kiwis.
Antioxidants: Plums, blueberries, beets, and dark chocolate are all rich in antioxidants.
Lutein: Can be taken as a supplement or found in dark leafy greens like kale and spinach.
NeoVision Eye Center is Here to Help Care for Your Eyes During COVID-19
A complete eye exam is the best way to ensure the long term health of your eyes. Early detection of any potentially eye-related issues can help prevent irreparable damage to your vision and overall well being.

In alignment with the current COVID-19 guidelines provided by local officials and The CDC, we are excited to welcome you back for regular eye examination starting June 15th, 2020! Please contact our office to schedule your annual eye exam, or for any of your other eye care need.