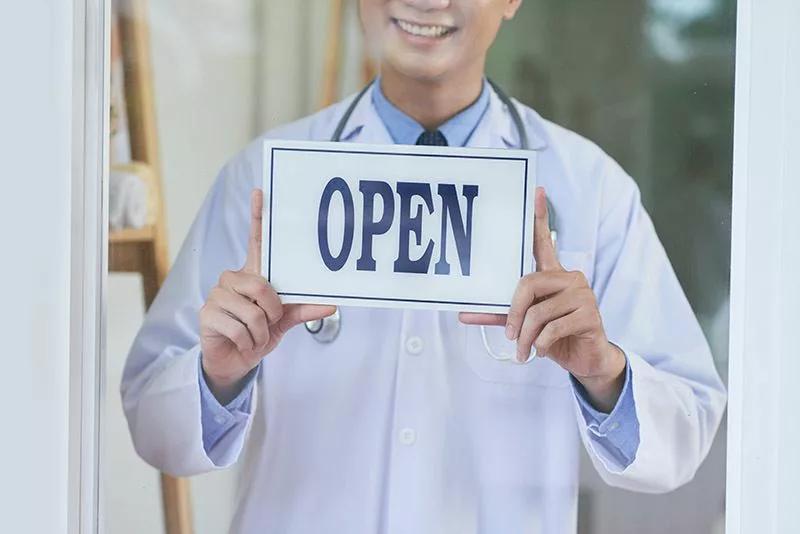 Safety Protocols for NeoVision Staff and Patients During COVID-19
During the COVID-19 pandemic, the safety and well-being of our patients, staff, and our doctors is our first priority at NeoVision Eye Center. Our team is dedicated to continuing to provide the highest quality care while also adhering to strict safety precautions to ensure everyone who enters our clinic feels comfortable.
New Safety Measures At NeoVision Eye Center During COVID-19
Updated 08/30/2021: We now require proof of vaccination record (electronic or hard copy) at the time of appointment, including children.
We have been working tirelessly to make sure all our clinic's safety and health standards have been addressed, and have instituted new protocols that allow us to re-open and offer routine care appointments.
We are sure you are familiar with the concerns surrounding COVID-19, and the need for proper social distancing and we would like you to know all the steps we are taking to ensure everyone's safety. Our new health and safety measure include but are not limited to: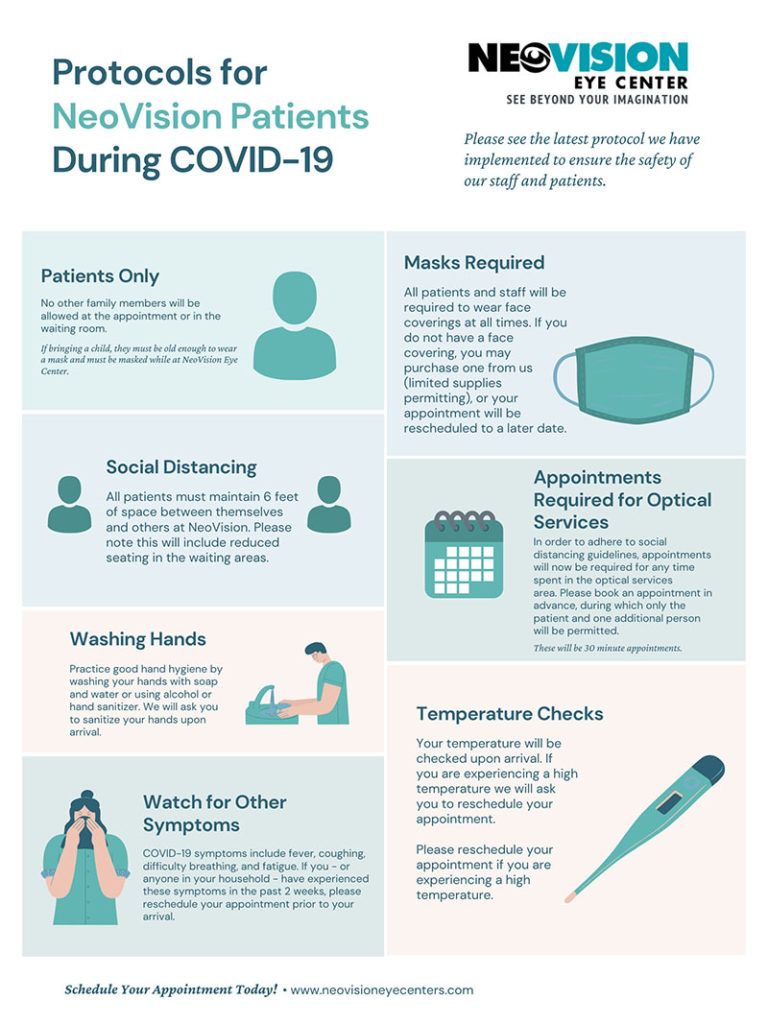 New Safety Protocols For NeoVision Eye Center Staff
All staff will have their temperature taken before entering the clinic and must regularly wash their hands with soap, water, and hand sanitizer. All of our staff and doctors will be wearing appropriate Personal Protective Equipment (PPE) including masks and gloves.
We will be actively cleaning and disinfecting all railings, counters, door handles, chairs, pens, and other common "touchpoints" in spaces where public interaction occurs. In addition to deep cleaning our entire clinic and reception area daily, all spaces will be regularly disinfected in between patients.
NeoVision Eye Center is Re-Opening & Offering Appointments
Due to the current climate during COVID-19 we are scheduling limited eye appointments. If you are unable to attend your eye care appointment please provide us with at least 48-hour (2 days) advanced notice so we can contact other patients waiting for an appointment.
Temporary Clinic Hours:
Monday – Friday: 9:00 am – 5:00 pm
Saturday & Sunday: Closed
As we continue to monitor the situation and follow all the guidelines provided by local officials and The Center for Disease Control and Prevention (CDC), our clinic hours may be subject to change.
Contact NeoVision Eye Center To Schedule an Eye Care Appointment Today
Our entire team at NeoVision Eye Center is very excited to welcome your back to our clinic for your eye care needs. Please call us at (510) 431-551 to reschedule your missed appointments or go online to schedule any treatment that has been delayed due to the mandatory Shelter-In-Place.