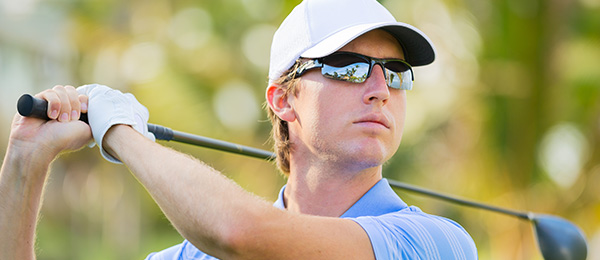 Over 100,000 sports eye injuries are reported every year. Most injuries often result in permanent damage, and 90% of the injuries could have been prevented. Sports Eyewear protects your eyes not only from injury but from ultraviolet radiations as well.
Sport Lenses
If you play sports, you should keep two things in mind related to your vision: protection and precision. Sports lenses protect the wearer's eyes. Most sport-related eye injuries occur when an elbow or a finger is jabbed into the eye and causes corneal abrasions, fractured bones, retinal detachments, or even blindness. Polycarbonate lenses are more resistant to impact than glass or plastic and offer protection for 90% of eye injuries. Protective eyewear fits well, features a padded bridge, has prescription or non-prescription lenses, and deep-grooved eye wires to prevent the lens from falling out.
The specialized lenses also optimize your vision. Depending on your sport, certain lenses are more appropriate than others. Dark, UV protection lenses are great for baseball and other outdoor sports. Golfers can benefit from gray-brown tinted lenses, which make it easier to outline the course. Even if you don't normally wear glasses, non-prescription sports lenses can benefit your performance. Some people think that lenses prevent the wearer from seeing the action, but many sports lenses have anti-fog, glare reduction, and scratch resistant properties. Some are also designed to maximize peripheral vision.
Polarized lenses can make a big difference for any outdoor enthusiast. Fisherman, surfers, and skiers can eliminate the bright reflections from the water and actually see into the water more easily than with any other sunglasses, golfers can see the green easier, and joggers and bikers can enjoy reduced glare from the road. In addition, drivers can enjoy the safety and comfort that polarized lenses provide while driving.